What is Challenger Baseball?
Challenger Baseball is a program that provides an opportunity for children with cognitive or physical disabilities to enjoy the full benefits of participation in baseball at a level structured to their abilities.
Challenger Baseball is designed to positively change the trajectory of health by reducing isolation, enhancing knowledge of healthy lifestyles, creating fun, inclusive sport opportunities, and directly combating high rates of sedentariness to reduce associated health risks.
Challenger Baseball has proven effective in promoting healthy lifestyles and increasing physical activity among people living with disabilities by addressing the common barriers to participation:
Lack of programming options:

 Challenger Baseball leagues grow the number of accessible programs in a community and Challenger Baseball in schools grows the number of accessible sport opportunities available to children and youth with disabilities at school. A grassroots program, Challenger Baseball focuses on participation and building physical literacy to get more children, youth and adults active and falling in love with sport.

Lack of skills to deliver programming:

 Challenger Baseball trains teachers and coaches to create inclusive environments that engage all athletes and build confidence.

Lack of awareness of existing programing: 

Ignorance of existing programming is among the most commonly cited reasons people living with disabilities don't participate in physical activity. Challenger Baseball mitigates this by reaching families at the most significant points of access:

Schools: 

Challenger Baseball is often the only adaptive sports programming offered in integrated schools, enabling children and youth to try team sport as a part of their school day.

Baseball Associations: 

Little League and Baseball Canada have a robust presence across Canada with more than 100,000 children and youth enrolling; however, many leagues don't offer an adaptive division. The expansion of Challenger Baseball is changing this.

Community organizations: 

People with disabilities often connect with local disability organizations. Such organizations rarely offer team sports. Challenger Baseball partners with organizations and offers comprehensive training, equipment and support to create Challenger Baseball teams.

Online platforms:

 Challenger Baseball is on Jooay, a free app that helps children with disabilities and their families locate leisure opportunities.
How Does Challenger Baseball Work?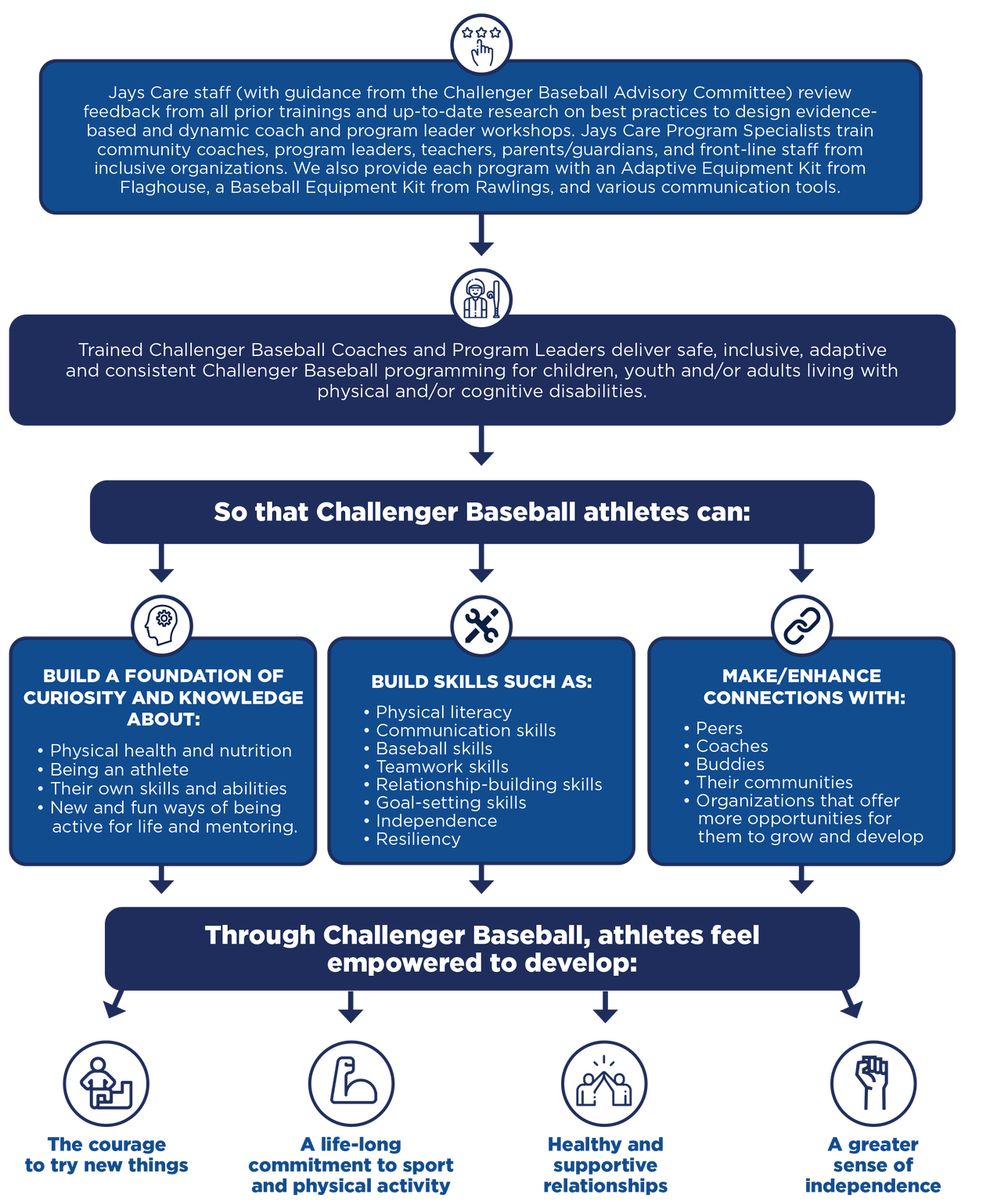 Challenger Baseball Objectives
To provide opportunities for children, youth and adults with disabilities to play organized baseball.
To provide experiences that enhance the lives of children, youth and adults with disabilities.
To empower children, youth and adults with disabilities through baseball and physical activity.
To teach children, youth and adults with disabilities the core life skills inherent to baseball, including teamwork, communication, determination, resiliency, inclusion, independence, confidence, self-esteem, social skills and courage.
To provide opportunities for children, youth and adults with disabilities to make new friends, meet other families in the community and become part of a team.
To provide the basis of physical literacy to allow children and youth with disabilities to continue with baseball, sports and physical activity into adulthood.
Who Can Play Challenger Baseball?
To be eligible for Challenger Baseball, participants must have a physical disability, an intellectual disability, a cognitive delay, or a developmental disability.
How much athletic skill or experience is needed?

Athletes of all ability levels are encouraged to participate in Challenger Baseball. Challenger Baseball is designed to be grassroots and non-competitive. It is a great program to engage children, youth and adults who are nervous about engaging in sport and recreation as it is safe and inclusive for everyone.

Is there a minimum age to participate?

You can start as early as four years of age, but you are never 'too old' to start!

Are there any other restrictions?

All athletes must agree to the Challenger Baseball Athlete Code of Conduct.
To register for your local league, send an email to your league coordinator to get the league registration form.
Contact
Baseball Alberta Associations with a Challenger baseball program
If you would like to learn more about Challenger Baseball, or how to start Challenger Baseball in your community, check out challengerbaseballcanada.ca or contact the Alberta Challenger Baseball Provincial Coordinator, Denis Wren, at 403-613-9000 or email: DRWREN@SHAW.CA