Baseball Alberta Fantasy Pool
---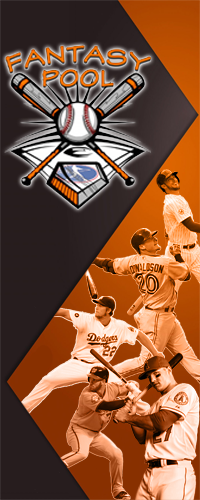 The Baseball Alberta Fantasy Pool is a one of a kind baseball pool where participants can select from 120 different Major League Baseball stars and collect points based off their players stats in certain stat categories.
You can build your own all-star team and follow them all season long. Each player has one stat category that will count towards your season total, the stat categories are; for hitters - Home Runs, RBI's, Stolen Bases, Runs Scored, Hits, and Extra Base Hits; for pitchers - Strikeouts and Wins.
Enter as many teams as you want, there are thousands of combinations that could bring you home with the championship and a cash prize!! Each entry costs $20.00 with 50% of all entries being paid back to the top 10 finishers while the other 50% goes towards making baseball better in Alberta.
Help support baseball in Alberta by entering your team!!
2017 Payout Schedule
| | | | | | | | | | |
| --- | --- | --- | --- | --- | --- | --- | --- | --- | --- |
| 1st | 2nd | 3rd | 4th | 5th | 6th | 7th | 8th | 9th | 10th |
| $336.00 | $168.00 | $134.40 | $112.00 | $89.60 | $56.00 | $56.00 | $56.00 | $56.00 | $56.00 |
Standings - FINAL STANDINGS
TW
LW
STANDINGS AS OF
HR
RBI
SB
RS
H
XBH
SO
W
Total
1
3
Back Door Slam
82
259
76
263
447
164
634
40
1965
2
2
Drunken Posse
78
251
107
224
486
164
619
25
1954
3
1
Miss Rivera
86
272
51
276
488
126
624
29
1952
4
5
Mr. Rinzi
66
285
71
301
443
164
566
40
1936
5
4
NLBA Lights
90
237
92
263
437
155
624
37
1935
6
7
SF Giants
82
277
90
245
351
173
644
38
1900
7
6
Yadi, Yadi, Yadi
82
294
91
179
402
189
620
39
1896
8
9
Northshore Bombers
86
277
107
287
468
166
469
34
1894
9
8
MCC 2
81
273
54
251
412
136
654
32
1893
10
10
Greytech 2
86
311
65
301
410
178
469
39
1859
Top 10 Win Cash Prizes
11
11
Ground Pounders
99
237
72
210
427
143
634
35
1857
12
12
RedLegs
97
210
54
254
376
170
654
37
1852
13
13
Chris S-3
65
252
77
224
461
126
610
36
1851
14
15
Mourning Wood
77
201
90
273
378
178
615
33
1845
15
14
Cadenator
99
269
109
254
461
177
435
36
1840
16
17
Low and Inside
86
232
73
201
497
143
536
37
1805
17
16
Cutch 22
74
285
68
263
468
147
449
35
1789
18
18
Northshore Bombers 2
62
237
33
235
472
161
546
41
1787
19
23
Manny's Infinite Sushi Bar
108
254
31
222
465
160
500
34
1774
20
21
Wilson
95
251
55
242
504
130
471
21
1769
21
19
Big Knox
82
242
91
292
381
170
469
37
1764
22
22
Angel 2
108
180
56
232
412
101
630
43
1762
23
24
TRU Believer
86
242
109
292
486
125
381
37
1758
24
20
Dusty
78
272
65
251
440
145
469
37
1757
25
27
Rogue Warriors
112
241
103
266
351
160
486
36
1755
26
25
MOEDAT
84
266
105
201
448
131
480
37
1752
27
26
Greytech 1
71
272
107
257
338
155
515
37
1752
28
29
Red Deer Dukes
77
215
105
207
427
172
510
34
1747
29
28
Upton Funk You Up
86
251
67
207
450
172
469
41
1743
30
32
Blasters
112
184
64
239
484
114
501
42
1740
31
30
Lincoln
104
216
94
246
502
188
352
32
1734
32
31
The Fenway Faithful
99
180
50
210
362
143
654
36
1734
33
37
Bauer Hour
86
267
93
257
437
173
381
37
1731
34
35
Also Ran
60
261
46
223
465
101
546
25
1727
35
33
Dad Knows Nothin
82
222
82
226
442
167
469
36
1726
36
36
Donnanator 1
77
246
50
245
340
164
566
34
1722
37
34
Hit & Roll
62
210
45
180
472
169
546
32
1716
38
39
No Idea About MLB
86
251
37
229
486
118
471
38
1716
39
42
Cheemomiko
93
292
52
232
362
173
471
38
1713
40
40
Dare
73
237
108
235
473
96
449
37
1708
41
45
Best Guess
82
255
73
220
471
88
491
27
1707
42
43
Dippy Dynamite
90
266
91
229
441
173
381
34
1705
43
38
Gamers
74
286
45
245
422
136
469
26
1703
44
41
Darryl Strawberry
82
257
90
292
412
173
361
34
1701
45
50
Fenway's Finest
73
227
107
245
468
164
381
34
1699
46
47
Yurk 2
104
248
91
210
437
142
425
38
1695
47
46
Gunners
82
272
50
218
473
101
461
37
1694
48
48
Big Dilly
82
242
91
276
351
170
445
34
1691
49
44
Double Sticks
93
231
76
179
427
165
480
38
1689
50
49
Joe Buck Yourself
78
292
76
262
437
173
340
30
1688
51
54
The Busy Beavers
86
222
83
263
450
160
381
33
1678
52
51
Rowlie's Boys
86
195
51
254
499
131
425
27
1668
53
53
The Three B's
74
305
60
229
433
183
362
22
1668
54
52
Yankee 1958
82
216
91
242
440
131
425
36
1663
55
55
Chipperville Sluggers
99
195
78
179
488
142
445
34
1660
56
57
NoBS
93
219
76
202
427
130
471
33
1651
57
56
Craig & PJ's Posse
75
268
83
224
437
165
361
37
1650
58
58
MAAATTT
79
251
105
254
437
131
356
32
1645
59
59
Ugly Finder
82
263
45
183
409
169
456
35
1642
60
63
Turf Burners
119
272
72
232
378
157
374
34
1638
61
62
Nick's Picks Too
73
269
68
262
463
152
316
34
1637
62
68
Rockin Ryder
95
212
83
196
450
101
459
37
1633
63
60
Nick's Picks
69
230
87
262
355
144
449
36
1632
64
65
RICO 1
74
277
71
221
322
142
486
35
1628
65
64
Canadair Regional Jets
77
215
72
196
448
136
449
34
1627
66
61
Green Leaf Hawks
79
251
61
176
429
156
449
24
1625
67
67
Cleanup Crew
82
195
52
180
471
153
461
25
1619
68
72
Big Jim
73
242
86
179
414
126
471
25
1616
69
66
Schmidt
112
264
44
179
488
147
340
41
1615
70
69
JRP 49
82
242
108
292
491
167
198
33
1613
71
70
Cookie
86
237
50
221
470
135
373
35
1607
72
71
Red Sox Rule
89
266
43
235
450
152
340
32
1607
73
73
Hit & Pitch
57
215
45
224
363
157
500
35
1596
74
74
Miss Jeter
74
241
66
233
340
153
445
43
1595
75
75
Bring It
86
272
107
179
497
139
286
25
1591
76
82
Brunnerman
90
232
107
236
468
164
252
40
1589
77
79
ET
73
273
70
210
461
158
306
34
1585
78
76
The Big O's
66
216
104
235
338
148
445
32
1584
79
78
Blue Oil Phins
80
257
83
207
467
160
284
43
1581
80
80
Greg "The Professor" Maddux
90
261
83
262
437
156
260
32
1581
81
81
Hockey Sucks
86
222
71
267
384
173
340
32
1575
82
77
Kimbo Slice
78
264
108
185
402
152
340
39
1568
83
84
Woodman 98
104
250
104
174
486
131
295
20
1564
84
83
The Purple Jays
69
210
105
179
427
152
373
43
1558
85
85
The Ranch Mutts
82
201
83
176
378
148
469
20
1557
86
86
Grand Theft Votto
69
257
33
230
437
135
361
32
1554
87
88
Best Guess 2
81
201
70
292
279
155
439
33
1550
88
87
Brads Beasts
82
298
76
246
392
134
284
36
1548
89
89
The Major Glover
73
258
31
246
472
141
286
22
1529
90
90
Donnanator
65
257
50
245
340
152
381
33
1523
91
93
Bonds 25
82
278
33
282
423
135
252
36
1521
92
91
Low Baller
115
252
72
210
399
142
295
34
1519
93
96
Larry
57
245
87
180
441
155
306
40
1511
94
92
Kentra
64
219
66
165
448
130
371
43
1506
95
95
Jimmy the Wallet
69
236
70
252
391
158
295
32
1503
96
97
Jays 77
65
180
107
291
401
131
286
36
1497
97
94
The Dingers
86
210
28
179
459
189
295
43
1489
98
98
JC's Crushers
75
237
52
170
473
158
286
38
1489
99
100
Rowland Rocks
115
237
64
210
479
101
252
27
1485
100
99
RICO 2
86
257
54
183
378
149
340
37
1484
101
102
Hawks Hammers
108
292
86
196
468
164
130
39
1483
102
101
MCC 1
82
251
68
179
433
131
286
41
1471
103
103
Gomers Bombers 2
112
195
52
179
422
171
306
32
1469
104
105
Gomers Bombers
86
237
48
254
389
125
286
40
1465
105
104
A Song For Albany
86
239
33
229
391
172
284
30
1464
106
107
PEI Rules
82
272
89
210
389
125
264
33
1464
107
106
Yurk 85
67
180
65
238
381
171
316
42
1460
108
109
Yurk 10
82
222
54
282
330
134
316
39
1459
109
108
Colby's Crushers
82
216
33
231
330
178
340
36
1446
110
110
Oilking 18
80
291
66
257
378
164
177
32
1445
111
112
Teamaru Crew
90
273
83
210
389
125
177
36
1383
112
111
Wingin It
66
210
54
180
389
144
295
40
1378
---
Past Champions
click year to view results
| | | | |
| --- | --- | --- | --- |
| Year | Team | Total Points | Winnings |
| 2016 | Leytonators | 2235 | $324.00 |
| 2015 | Rehabilitated Swag | 2000 | $270.00 |
| 2014 | Gotta Beat Darren | 1905 | $288.00 |
| 2013 | Jody Young | 1878 | $321.00 |