Return to Baseball UPDATE - September 15th, 2021
---
---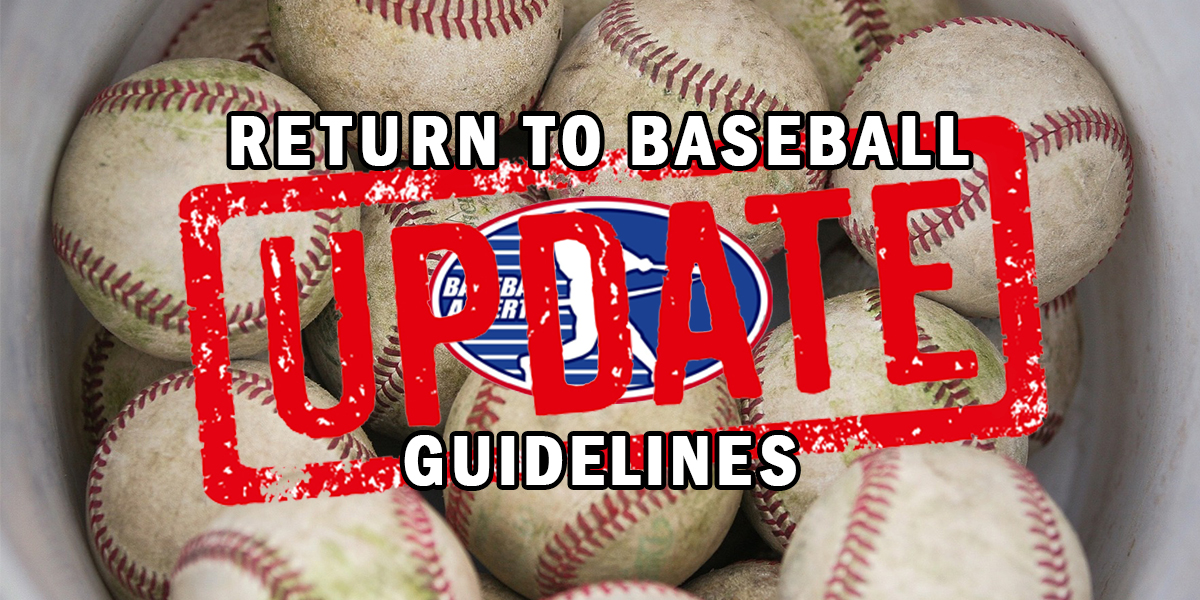 ---
To view the official Return to Baseball Document click HERE - Documents are updated to reflect the latest guidance as of September 27th.
*Document will continue to be updated as more information becomes available.
September 15th, 2021 UPDATE
Mandatory restriction - Effective Sept. 16th and 20th
Adult (18-plus) sport, fitness and performance activities (Sept 20)
The following restrictions apply unless the facility or program implements the Restrictions Exemption Program:

Indoor group classes and activities are not permitted.
Indoor competitions are paused except where vaccine exemptions have been granted (Exemptions are granted by AHS).
Indoor one-on-one training and solo activities are allowed with 3 metre physical distancing.
Outdoor activities can continue with no restrictions.
Youth (under 18) sport, fitness and performance activities (Sept 16)
Indoor group classes, training, and competitions are permitted, but participants are required to:

screen for symptoms
maintain 2 metres distancing, except youth while engaged in physical activity
wear a mask, except youth while engaged in physical activity

Spectator attendance is restricted to 1/3 fire code capacity, attendees are limited to a single household or 2 close contact if living alone and must be masked and maintain 2 metres physical distancing.
Outdoor activities can continue with no restrictions.
Day and overnight camps (Sept 16)
Day camps required to maintain physical distancing between participants and masking indoors (Coaches included).
Equipment
Organizers should ask participants to bring their own equipment/materials, where feasible.
If the organizer is providing equipment or materials, they should minimize the shared use of equipment/materials, and, if possible, assign specific equipment/materials to each attendee.
For sports/activities that require shared equipment to be handled (e.g., shared baseballs), participants need to perform hand hygiene before and after the activity.
Restrictions Exemption Program (REP)
For all indoor practices, please follow all facility requirements for vaccines before entering the building.
Youth aged 12-17 participating in youth activities in a facility that is participating in REP are not required to be screened as part of the REP.

Parents who are required to support youth in their activities (e.g. parent and tot groups) would be required to follow REP requirements in order to attend.
Youth are subject to physical distancing at all other times when not engaged in the physical activity (e.g. locker rooms, common areas etc.)

If youth wish to access other amenities beyond youth-specific sports, recreation or performance activities in a facility participating in REP, for these purposes they will be required to be screened per the REP, as applicable (12+ years of age).
Coaches, instructors, trainers, referees etc. for youth activities, who are 18 years or older, are subject to the public health measures or REP requirements in the facility.
What to do if you have a positive COVID-19 case or are a close contact of a positive case?
CONTACT 811 IF YOU HAVE A POSITIVE COVID-19 CASE OR ARE A CLOSE CONTACT FOR FURTHER DIRECTION AND NEXT STEPS FOR YOUR TEAM.
*Please note: Baseball Alberta insurance will only be valid for all baseball activities that follow the current public health measures and for participants who are registered with their local Baseball Alberta Association. The required waiver forms for players are included in the RAMP registration set up. For Associations not using RAMP as their main registration platform, please download the appropriate waivers from the Baseball Alberta website.
ALL participants (coaches & players) must sign:
Return to Baseball Questionnaire and Attestation
Waiver / Acknowledgement of Risk (17 & Under) to be signed by parent or legal guardian
Waiver / Acknowledgement of Risk (18 & Older) to be signed by player or coach
Individual Contract Tracing Log - to be completed within 4 hours of start of session.
Association Contract Tracing Log - to be completed by responsible adult for each session.
Associations must collect and store all forms as well as track all individual and group sessions using the Contract Tracing Logs.
For more info on the current guidelines from YourAlberta, click HERE