Return to Baseball UPDATE - November 24th, 2020
---
---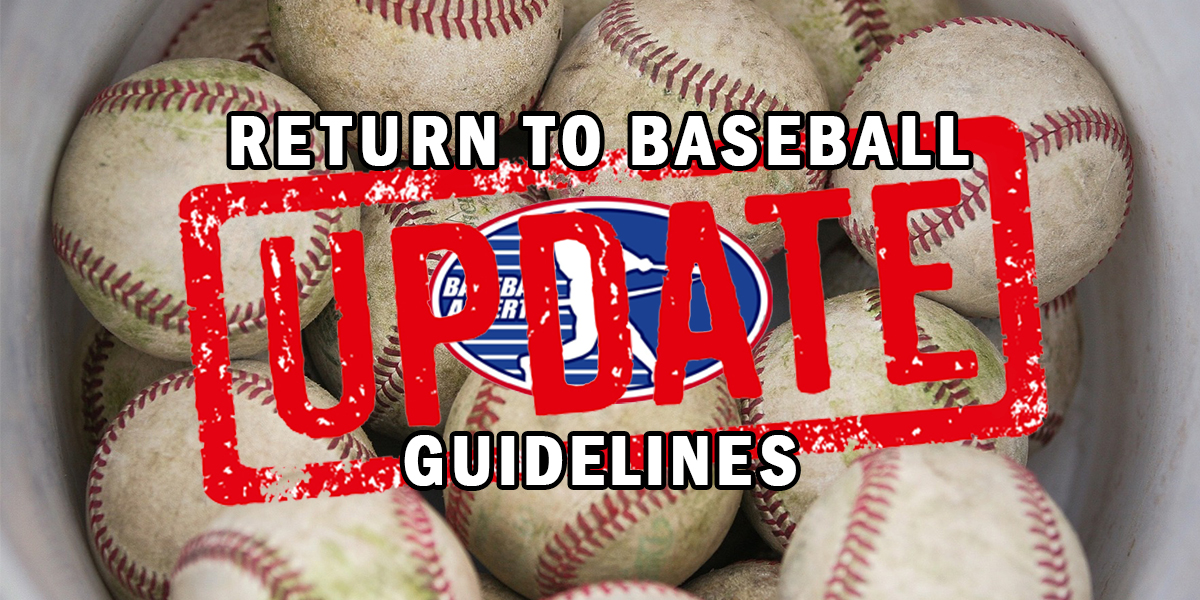 ---
To view the official Return to Baseball Document click HERE
*Document will continue to be updated as more information becomes available.
NOVEMBER 24th, 2020 UPDATE
New mandatory public health measures are in place in communities across Alberta to protect the health system and slow the spread of COVID-19.
The mandatory restrictions come into effect November 24th and will be in place for at least three weeks.
Click Here for details on the Alberta Government's Public Health Emergency Measures
Mandatory restrictions for Areas with Enhanced Status (purple) Areas - Effective Nov. 27
All levels of sport (professional, semi-professional, junior, collegiate/universities and amateur). Exemptions may be considered.
Indoor fitness, recreation, sports and physical activity centers, including dance and yoga studios, martial arts, gymnastics and private or public swimming pools.

Facilities can be open for individual studio time, training or exercise only.
There can be no group fitness, group classes, group training, team practices or games.
Instructors can use facilities to broadcast virtual fitness classes from, but there can be no group classes.
Exemption process
Exemptions may be considered for outfits and organizations that can demonstrate adherence to the guidance for professional sporting events.
Criteria includes:

Enforcing a mandatory 14-day "quarantine-in" procedure before any practice or play occurs and using a bubble model for the duration of the event.
Access to dedicated facilities and transportation that are not open to the general public.
Conducting daily health checks on all members of the team, and private testing team members upon entry into the bubble and every five days throughout events.
Conducting a comprehensive risk assessment plan and implementing risk mitigation and controls before play begins.
To request an exemption, send your completed implementation plan to BizConnect@gov.ab.ca.
*Please note Baseball Alberta insurance will not be valid for those areas that currently have restrictions on team sports until further notice for all in person team and group activities.
EFFECTIVE NOVEMBER 13th, 2020
Targeted measures apply to all communities on the enhanced list (purple zones). Additional measures may apply to the Calgary and Edmonton Zones, and the cities of Fort McMurray, Grande Prairie, Lethbridge and Red Deer.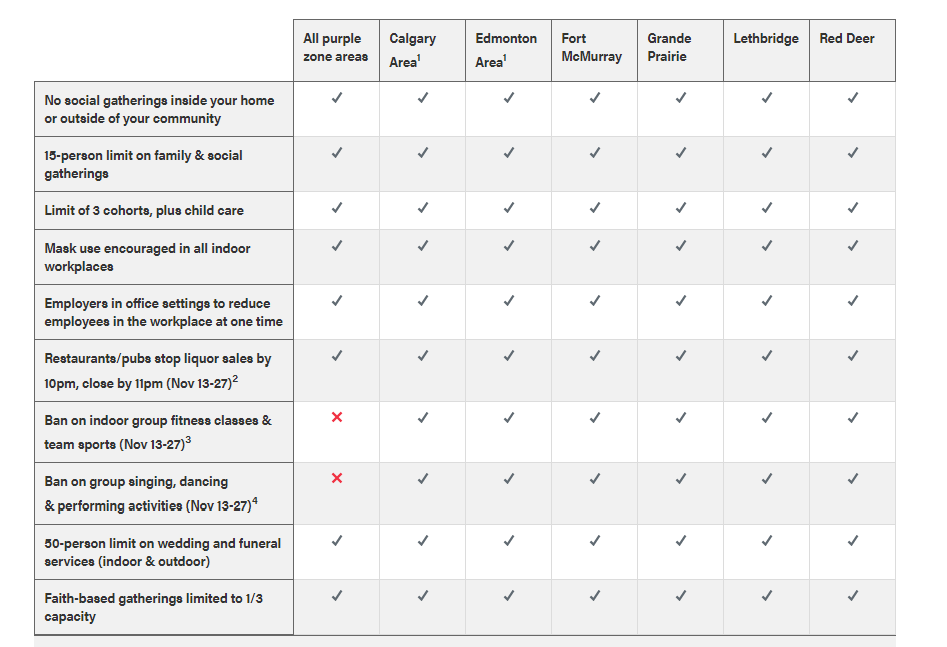 Among the new targeted measures:
Ban on indoor team sports and group fitness classes (Nov 13-27)
Which means no competition or practices for clubs, community and recreational baseball
Ban on group singing, dancing & performing activities (Nov 13-27)

Does not include sports that are currently taking place outdoors
Does not include individual sports, exercise, training or equipment use
Does not include Junior (Example AJHL), Collegiate, University or Professional sports.
All new measures will be in place starting November 13th, 2020. For further information regarding the new measures, please check out the Target Public Health Measures page provided by AHS and the Government of Alberta. For further inquiries, please contact Alberta Health Services.
*Please note Baseball Alberta insurance will not be valid for those areas that currently have restrictions on team sports from November 13th - November 27th, 2020 for all in person team and group activities.