Baseball Alberta Return Play Guidelines
---
---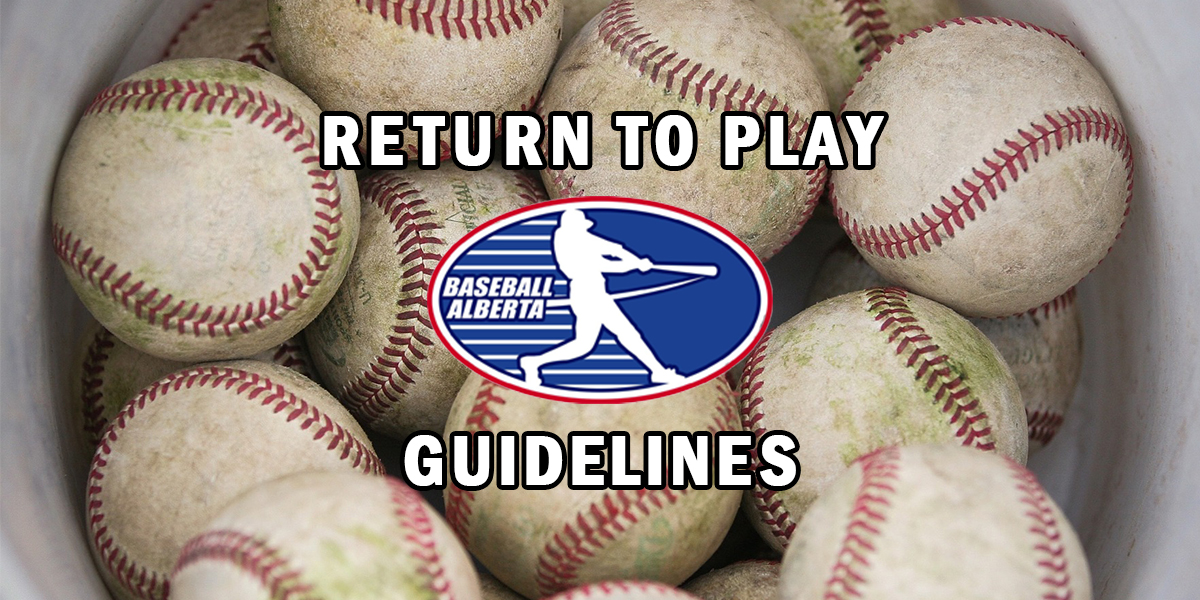 ---
We are pleased to release the Baseball Alberta Return to Play Plan. These guidelines represent the limit to which modified gameplay can safely resume within your Association/team in a Covid-19 world. We recognize there will be different levels of comfort from individuals and associations. Baseball Alberta will fully support associations who choose to remain closed for the season or who solely choose to stay with Return to Train activities. Although there will be a level of competitiveness in any game scenarios, those associations who choose to move to the Return to Play model should stress that these games are designed as developmental opportunities, rather than being for the purpose of declaring a winner.
Noncompliance can lead to removal of facility access through the municipality in which you offer baseball programming, bylaw fines or even provincial health officer order to cease activity.
Member Associations will be able to safely resume baseball activities once:
All players and coaches are registered with Baseball Alberta.
All registered players, coaches and volunteers have signed the appropriate waiver forms (found within the RTT document)
Associations have communicated with their municipality to ensure compliance with all local guidelines in order to book and use fields.
The Baseball Alberta Board of Directors and staff's focus continues to be the health and safety of our athletes, coaches, officials, volunteers and fans. We respect the orders and restrictions that have been put in place in our province by our Chief Medical Officer of Health and her team.
To view the official Return to Play Document click HERE
*Document will continue to be updated as more information becomes available.
September 18th Updates Include:
Cohorts
When playing a sport or engaging in a physical activity that involves or requires multiple participants/players and where it is not possible to maintain a physical distance of 2 metres from other participants/players, the individuals in the group should form a cohort.
The cohort should always include only the same people.
o Cohorts limit the risk of disease transmission because they reduce the number of people with whom players/participants have close contact.
More information on cohorts is available on Page 11.
The maximum number of individuals that can form a cohort is 50.
o The 50-person maximum includes any coaches/staff, instructors, participants, officials, and volunteers who consistently and routinely engage with participants at a distance of less than 2 metres.
o Coaches, staff and officials who primarily interact with individuals or teams at a distance of 2 metres or greater do not need to be counted as part of the cohort. These individuals are required to wear a mask and perform proper hand hygiene if it becomes necessary to temporarily interact with cohorting participants at a distance of less than 2 metres.
Transportation to and from activities should be arranged so that only cohort members, or members from the same household, share rides.
50-person mini-leagues can be formed for sports, physical activity and recreation that involve physical interaction of participants at a distance of less than 2 metres.
A mini-league can be comprised of multiple teams, but to a maximum of 50 individuals.
o Game play should be limited to teams in the same mini-league.
o Teams that belong to other mini-leagues should not play each other.
Individuals should limit the number of cohorts/mini-leagues they belong to.
If an individual or team member wishes to change cohorts/mini-leagues, they should not participate in a new cohort activity for 14 days (this reflects the incubation period of the virus).
If a mini-league comes to completion during Stage 2, a new mini-league comprised of new cohort teams may be formed, provided that there is a 14-day period between completion of play in the old mini-league and the beginning of the new mini-league.
It is recommended that mini-leagues appoint a responsible person whose role is to ensure cohort rules and other public health guidance are followed. Once a team has established a cohort group of up to 50 on field individuals, they will not be allowed to form another cohort group without first suspending baseball activities with their original cohort group for at least 14 days. Practices within each individual team may continue during this 14 day period.
It is strongly recommended that individuals limit the number of cohorts/ mini leagues they are involved in. AHS Guidance is in place during a pandemic to mitigate the risk of transmission and to keep group numbers to a manageable size should an outbreak occur.
Travel Restrictions
Where 2 metre physical distancing between individuals is maintained or the mini-league model is employed, travel for sport, physical and recreational activities is allowed. Tournaments, races and competitive events are permitted for sport, physical activity and recreational activities where participants can maintain 2 metre physical distancing at all times, or they follow the mini league model. If 2 metres distance or the mini-league model are not options, the tournament/event is not permitted. Tournament/events that compel a new cohort team to be formed for a short period (e.g., a weekend) are not permitted at this time.
Outbreak Response Plan
IF a member of the cohort is experiencing Covid-19 symptoms, they must isolate for 14 days and get tested in order to rejoin the team. The team can continue to practice and play games within their cohort unless notified of a positive case.
IF a member of the cohort is a positive case and were with the team, the cohort must be shut down for 14 days. This means that all baseball activity within your cohort must stop for the duration of the quarantine (practices, games, team meetings).
IF a member of the cohort is a close contact to a positive case outside of their sporting cohort, the cohort must be shut down for 14 days. This means that all baseball activity within your cohort must stop for the duration of the quarantine (practices, games, team meetings).
If you have been tested and are a confirmed case, please follow the additional measures that will be provided by your health professional regarding self-isolation. Insure you have made direct contact with your association so they can notify anyone you have been in contact with during your sessions.
If your organization is contacted by a medical health officer in the course of contact tracing, cooperate with local health authorities.
It is important to note that Baseball Alberta insurance will not cover any claims relating to communicable diseases or pandemics and that most policies now include specific pandemic exclusions.
Spectators
Spectators should be kept out of participant spaces (e.g., fields of play, courts, ice surfaces). With 2 metres of distance maintained between members of different households (with the exception of core/household cohorts), the following capacity restrictions apply: A maximum of 200 spectators is permitted for outdoor seated/audience events/settings, cheering and yelling is strongly discouraged as it presents a high risk of spreading droplets, it is strongly recommended that spectators wear masks.
To view our Return to Train/Play FAQ Document click HERE