Women's Baseball Technical Coordinator - Job Posting
---
---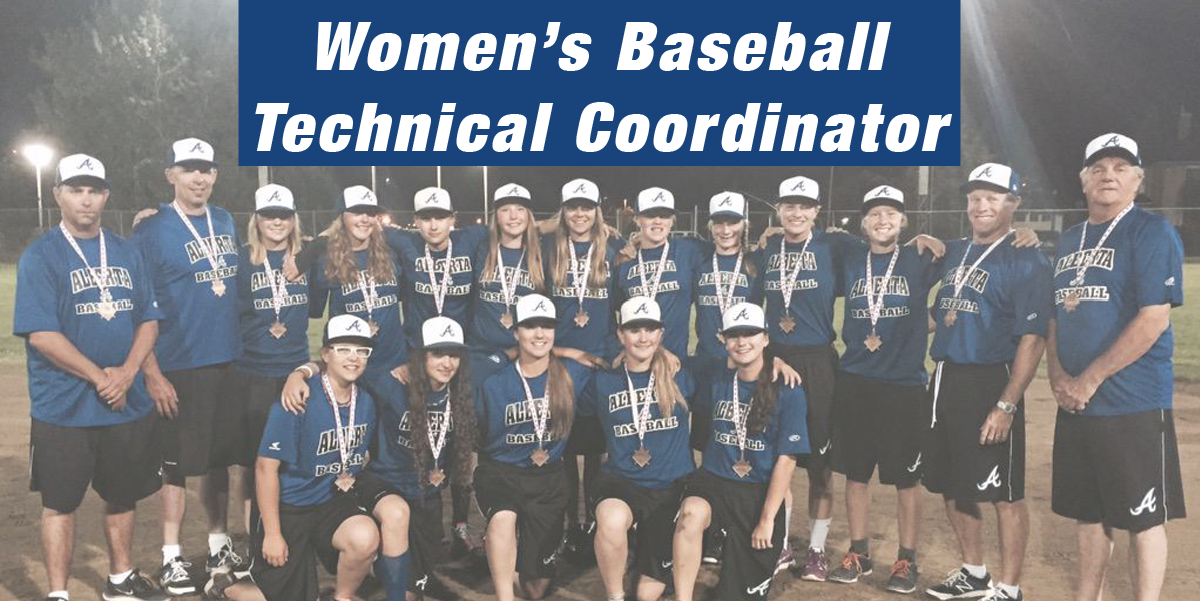 ---
WOMEN'S BASEBALL TECHNICAL COORDINATOR - BASEBALL ALBERTA
Application deadline: December 15, 2017
Term: approximately January 15, 2018 - December 15, 2018. The term may be renewed each subsequent year at the discretion of Baseball Alberta.
Candidates: Note that a qualified candidate has been identified prior to the posting date.
Roles and Responsibilities:
The Women's Baseball Technical Coordinator role is focused on recruiting, retaining, and developing female baseball players across the province through the development and delivery of specific programming for female players. Reporting to the Executive Director with ultimate accountability to the Board of Directors of Baseball Alberta, this role will be based out of the Baseball Alberta Edmonton office working as part of a team of employees focused on serving the member Associations of the province in developing, administering, and growing the sport of baseball in Alberta. Specific areas of responsibility include:
Recruitment

Develop and execute strategies to increase the level or female participation in baseball at the grassroots level.
Promote and expand Baseball Alberta programs designed to increase the level of participation in girl's baseball.
Work with member associations to develop and implement local girl's baseball programs and teams.

Retention

Develop, implement and maintain the efficient operation of baseball outreach camps for female players in various locations in the province.
Develop a model for female baseball development in conjunction with Baseball Alberta's Technical and Development Coordinator.
Develop, implement and maintain effective promotional female baseball programs, including support for Girls Baseball Days.

Sport Development

Identify, define, develop and establish the technical guidelines for the women's baseball program.
Identify, develop and implement effective programs focused on player development.
Recruit qualified coaches from across the province to participate in programs designed to develop female players
Lead the recruitment and development of female coaches across the province through coach training and mentoring.
Develop, implement, and maintain the efficient operation of development camps for female players including winter camps.

High Performance

Plan, develop, coordinate and implement the annual activities of the provincial Women's and Girl's teams while respecting the values of Baseball Alberta.
Recruit coaches for various provincial teams.
Direct female high performance programs including identification of high performance athletes and coaches for National and Western Canada Championship events.
Develop and implement an effective scouting program for female athletes across the province.

Administration

Work closely with the Baseball Alberta Technical and Development Coordinator to ensure alignment of the Women's program with the overall Baseball Alberta technical program.
Actively participate when required in Baseball Alberta Board Meetings and AGM.
Identify key contacts and maintain effective relationships with the baseball community.
Lead the administration of the various provincial women's teams, including team selection, travel coordination, pre-event training, ordering of team equipment and the collection of player fees.
Qualifications:
Minimum NCCP Provincial Certified baseball coach status and NCCP Trained coach developer status with a preference for NCCP Competition-Development Trained baseball coach status.
Demonstrated ability in baseball program development, administration, and delivery. Must possess strong creative ability and superb planning skills.
Ability to manage multiple activities and programs at a time. Must be highly self-motivated and able to work well independently as well as in a team.
Ability to flex work hours to support baseball activities during evenings and weekends as required, particularly during the program intensive in-season period.
Honourarium:
Baseball Alberta provides an Honourarium of $20,000 to the Women's Baseball Technical Coordinator. This would be paid in four equal installments through the duration of the term.
Hours of work are expected to be highly variable throughout points in the year with the clear expectation that the incumbent will work to deliver specific results against defined metrics.
Apply to:
Baseball Alberta
c/o Executive Director
11759 Groat Road
Edmonton, Alberta
T5M 3K6
OR via e-mail: registrar@baseballalberta.com